Vision
Enrich and inspire the minds and spirits of our community of dancers and audience members alike
Mission
Present the highest caliber dance performances, offer the finest quality training, and provide meaningful access to the arts
Montana Ballet Company (MBC) is a nonprofit, 501c(3) arts organization governed by a Board of Directors and registered in the state of Montana. For 40 years, the Montana Ballet Company has enchanted audiences with its exceptional productions. From full-length classics, to contemporary ballet and modern dance, our company presents works that appeal to both the dance enthusiast and the first-time theatergoer. Come experience the magic that is the Montana Ballet.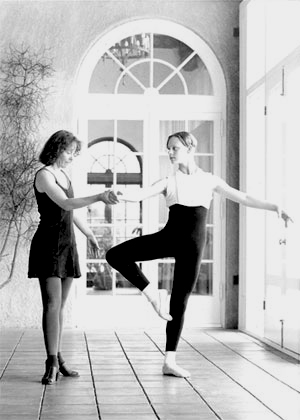 The Montana Ballet Company (MBC) has enriched Bozeman and the Greater Gallatin Valley since its inception in 1984, bringing the fine art of live dance in collaboration with world renowned professional dancers, choreographers, conductors, composers, musicians, film makers, and set, lighting and costume designers to our community.
The Company and early school were founded by the late Ann Bates, who served as Artistic Director until 1997. Ms. Bates believed that "Nowhere else in the rural west is there a small dance company with our big company goals." The Montana Ballet has achieved many of these "big goals" in its vibrant history presenting seasons showcasing both original productions and international guest companies. Past seasons have included our annual Nutcracker in collaboration with the Bozeman Symphony, Spring Mixed Repertory programs, and full-length classical works, performances during Sweet Pea Festival of the Arts weekend, as well as our annual Summer Dance Intensives, New York Connection, Company on Campus, and Dancing Under the Big Sky.
MBC's repertory is rich and diverse including timeless classical ballets, as well as original contemporary and modern works.
MBC has enriched the training of our student and professional dancers, as well as Bozeman audiences, through performance collaborations and guest residencies with artists from New York City Ballet, American Ballet Theatre, Pacific Northwest Ballet, Atlanta Ballet, Stars of American Ballet, Ballet Stars of Moscow, Smuin Ballet, Terminus Modern Ballet Theater, White Tree Fine Art, Festival Ballet Providence, International Import from Buenos Aires, Tangokinesis, Jose Greco II Flamenco, Brigham Young University's International Dancer's Company, Grammy winner Patrick Leonard, Emmy winner Jen Grace, American contemporary classical composer and conductor Eric Funk, the Bozeman Symphony, Intermountain Opera, MSU Cello Ensemble, Meritage String Quartet, Kamerata String Quartet, master choreographer, teacher and costume designer, Winthrop Corey, acclaimed choreographer Gina Patterson, guitarist Craig Hall, cellist Julia Cory, soprano Catherine Savery, Grammy-winning saxophonist Ryan Montana, vocalist Courtney Yovich, pianist Stefan Stern, Montana Shakespeare in the Parks, and countless other esteemed individuals and organizations.
Under the direction of Elizabeth DeFanti and Amy Lynn Stoddart, MBC grew to include a fine performing ensemble and a full support staff. In 2010, under DeFanti's leadership, MBC re-established its ballet school under its non-profit umbrella. MBC's Academy trains dancers of all ages in the art and discipline of classical ballet.  With a humanistic and holistic approach, focusing on the "whole dancer" – mind, body, and spirit – MBC incorporates important concepts of health and wellness into its curriculum, regularly engaging Nutritionists, Physical Therapists, and Pilates experts, among others, to work with its dancers.
In 2016, MBC created an Adaptive Dance program that offers children with Down syndrome introductory ballet instruction, creative movement, and performance opportunities.
With a focus on providing meaningful access to the arts, MBC created its Educational Engagement program, Discover Dance, giving thousands of school children in the Greater Gallatin Valley and beyond the opportunity to learn about dance and the wonder of live performances both in the classroom and the theatre.
MBC's Community Engagement and Philanthropic program, Share the Dance, makes it possible for children, families, and seniors, who would otherwise not be able, to attend MBC's performances free of charge.
In the Spring of 2020, MBC developed its Online Academy to safely train students in Montana and across the country. In the Fall of 2020, MBC expanded its Engagement programs with MBC MOVES and Share the Dance & Dinner. MBC MOVES is a Dance Residency program for Elementary Schools and non-profits that serve children with a focus on health and the correlation between wellness and exercise.
Share the Dance & Dinner supports those in our community experiencing food insecurity. Through partnerships with local nonprofits working tirelessly to gather and distribute food to those in need, MBC dancers and staff assist with food drives, packing food and groceries, and making deliveries, all the while adding some dance to the recipe.
And for the first time in the Company's history, MBC presented its Nutcracker REIMAGINED 2020 in collaboration with Wimberg Productions. This complimentary virtual event highlighted archived performance film, new "reimagined" footage, special interviews with esteemed guest artists, and a surprise performance by Bozeman Health Healthcare Professionals.
With the generous support of business, individual, foundation, and government sponsors, the Montana Ballet Company remains passionate in realizing its mission and vision "to present the highest caliber dance performances, to offer the finest quality dance training, to provide meaningful access to the arts, and to enrich and inspire the minds and spirits of our community of dancers and audience members alike."
Advisory Board
Lauren Brown
Emily Cook
Winthrop Corey
Linda Gipp
Lorraine Padden